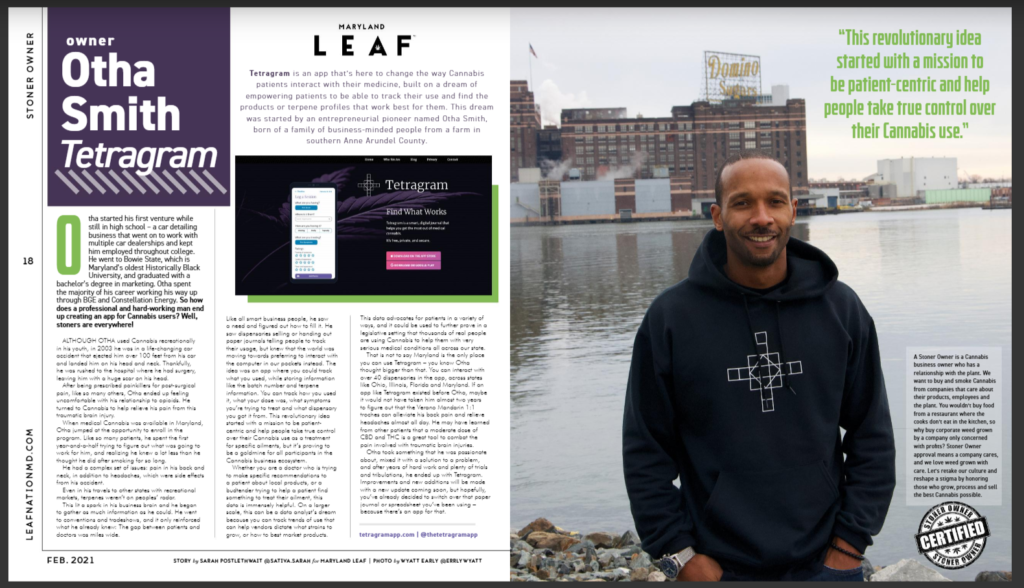 Thank you to Maryland LEAF Magazine for featuring Tetragram's CEO, Otha Smith's personal journey with cannabis and how nearly losing his life in a terrible car accident made him realize how important cannabis is and the medicinal value it holds.
From the article:
Tetragram is an app that's here to change the way Cannabis patients interact with their medicine, built on a dream of empowering patients to be able to track their use and find the products or terpene profiles that work best for them. This dream was started by an entrepreneurial pioneer named Otha Smith, born of a family of business-minded people from a farm in southern Anne Arundel County.
Otha started his first venture while still in high school – a car detailing business that went on to work with multiple car dealerships and kept him employed throughout college. He went to Bowie State, which is Maryland's oldest Historically Black
University, and graduated with a bachelor's degree in marketing. Otha spent the majority of his career working his way up through BGE and Constellation Energy. So how does a professional and hard-working man end up creating an app for Cannabis users?